Being Customer Driven is a Journey
Change the Business Model
We help our clients to change the way they think about and manage their business. First, we help them refine how their company will create, deliver and capture value from their customer relationships. Then, we ensure their operations, organization and culture are fully aligned and integrated with their new customer driven strategy. Finally, we ensure any changes to their business model are properly sequenced and advanced in a mutually reinforcing and parallel manner over time.
Alternative Ways to Partner With Us
The journey can be all encompassing, which makes it valuable and difficult for others to copy. But it can be tackled piecemeal and in a controlled and orchestrated manner over time. Different companies start the journey at different points and accelerate their progress at different rates, depending on their situation and ambition.
Ways that we partner with our clients include:
Vision & Strategy

:  We help senior management create a detailed vision for their customer driven business and then formulate a strategy for how to achieve it.

Assessments

:  We conduct an independent assessment of our client's current business and recommend improvements necessary to achieve their company and customer objectives.

Initiative Design & Implementation

:  We help to design, execute and strengthen the impact of a specific customer oriented initiatives like segmentation, account management, customer experience, sales and marketing effectiveness, use of social media, voice of the customer, or customer driven service innovation.
Tailored Assignments
Regardless of the starting point, we tailor our approach to every assignment to ensure we focus our activities in the areas of greatest value to our clients. Their needs are unique and cookie cutter approaches, rigid frameworks, and standard processes don't fit.
Likewise, we assemble a customized consulting team, drawn from our collaborative network, with skills appropriate to the approach we design. The only common thread across all our assignments is a relentless focus on fact based, practical recommendations that deliver dramatic, measurable and sustainable business results. Our clients typically earn a return of ten times or more on their investment with us.
Areas of Expertise
Our services are provided in three areas:
Customer Driven Strategy:

  We help our clients to formulate customer driven business strategies that make clear who they sell to, how they create value, who they compete with, and why customers will buy from them and not their competitors.

Operational excellence

:  However, companies win on execution, not strategy. Therefore, we help our clients to design and deliver desired customer experiences, leverage customer information and technology for competitive advantage, and collect and hardwire customer feedback into continuous improvement of their operations.

Organization & Culture

:  We work with our clients to ensure they have the right organizational structure and dynamics and that their employees have the right attitude, competencies, and motivation to satisfy customers at every interface.
Click on any component of this customer driven business model for a more in-depth understanding of our offerings in that area: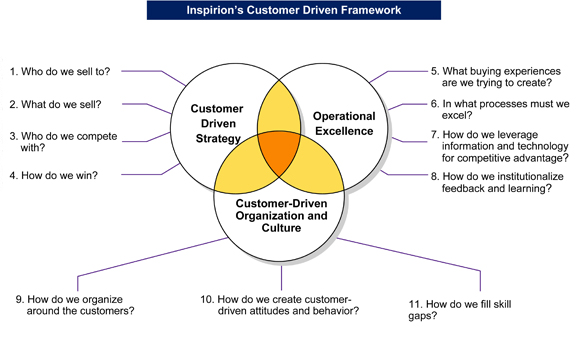 * Click on any component for a more in-depth understanding of our offerings in that area.